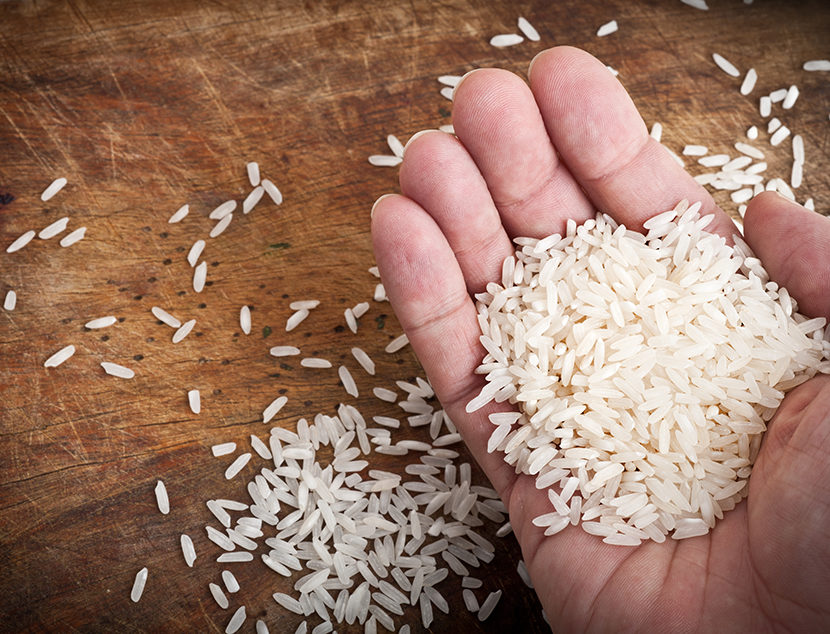 Many people find it very difficult to judge the right food portion size they should be eating in order to feel satiated and satisfied.
Daily consumption of excessive portions of processed and/or poor quality food, as well as contributing to food waste, is also one of the main causes of the soaring number of people, including children, who are overweight or obese.
Obesity and related diseases are a major public health problem worldwide.
The data available on the website of the Italian Ministry of Health are certainly a cause for concern: being obese/overweight actually
causes 44% of cases of type 2 diabetes,

23% of cases of ischemic heart disease, and up

 to 41% of some tumours.
At least 2.8 million deaths per year globally are attributable to obesity!
According to WHO, since 1980 obesity rates throughout the world have doubled. By 2008 there were more than 1.4 billion overweight adults, including 200 million men and 300 million women diagnosed as obese. In 2011, there were about 40 million overweight children under the age of 5.
In the vast majority of cases, being overweight or obese is due to a lifestyle of poor nutrition (generally high-calorie) and reduced energy expenditure (little physical exercise and a sedentary lifestyle).
The British Nutrition Foundation in its "Find Your Balance" guide, as well as providing guidance on how to properly combine foods, has also developed an intuitive and literally 'at your fingertips' method to understand what the correct portion should be: this method uses one's own hand's fist and thumb as a unit of measurement!
The British Nutrition Foundation website provides a list of measurements for some of the foods most widely consumed around the world related to the size of the hand calculated taking portion size into account and what is available in UK supermarkets. Here are some examples:
2 handfuls of dry pasta or rice (which is approximately 75 g).

A bunch of spaghetti with a diameter of a 1 pound coin as measured with your finger and thumb (75 g).

The amount of cooked pasta or rice that would fit into a pair of cupped hands (180 g).

A baked potato the size of your fist (220 g).

About 3 handfuls of breakfast cereal (40 g).

A piece of grilled chicken breast half the size of your hand (120 g).

A piece of cheese two inches in size in all (30 g)
Each person has their own nutritional needs depending on their constitution, age, gender, level of physical activity, etc. and portions of food vary according to individual needs. If a person is tall or does a lot of physical activity their needs will be different than those of a shorter person who is trying to lose weight. The hand method, even in a case like this, is still reliable in terms of proportionality because a larger person with their larger hands will automatically get larger portions than those of smaller people with smaller hands.
Obviously, this is a very rule-of-thumb system of measurement that does not take any specific parameters into account.
The most accurate method of measuring portions of food according to your needs remains:
having a nutritionist carry out all the necessary physical measurements

using scales to weigh your food accurately

referring to the standard portions shown in the guidelines.
Using a quick, fun method to calculate portions, such as using your hand, can help you better assess how much food you are eating and over time will help you to get better at varying your portion sizes. Eating more mindfully is the first fundamental step in improving health.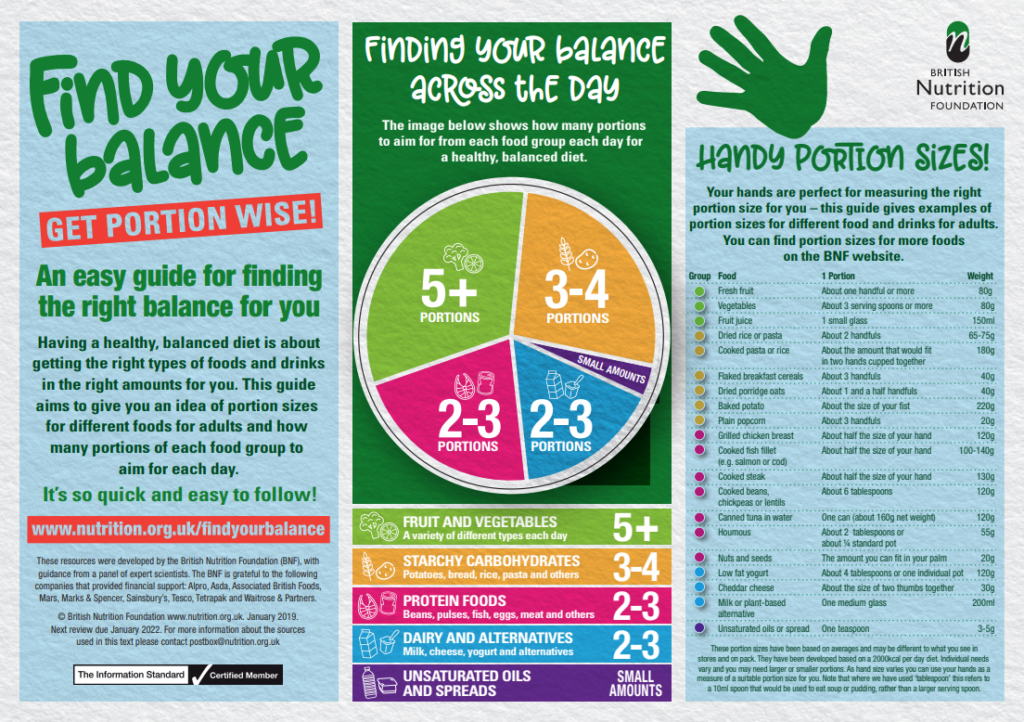 From British Nutrition Foundation website
Sources and insights:
https://www.nutrition.org.uk/healthyliving/find-your-balance/portionwise.html
https://www.bbc.com/news/av/health-46843832/healthy-eating-what-is-a-correct-food-portion
http://www.salute.gov.it/portale/salute/p1_5.jsp?area=Malattie_endocrine_e_metaboliche&id=175